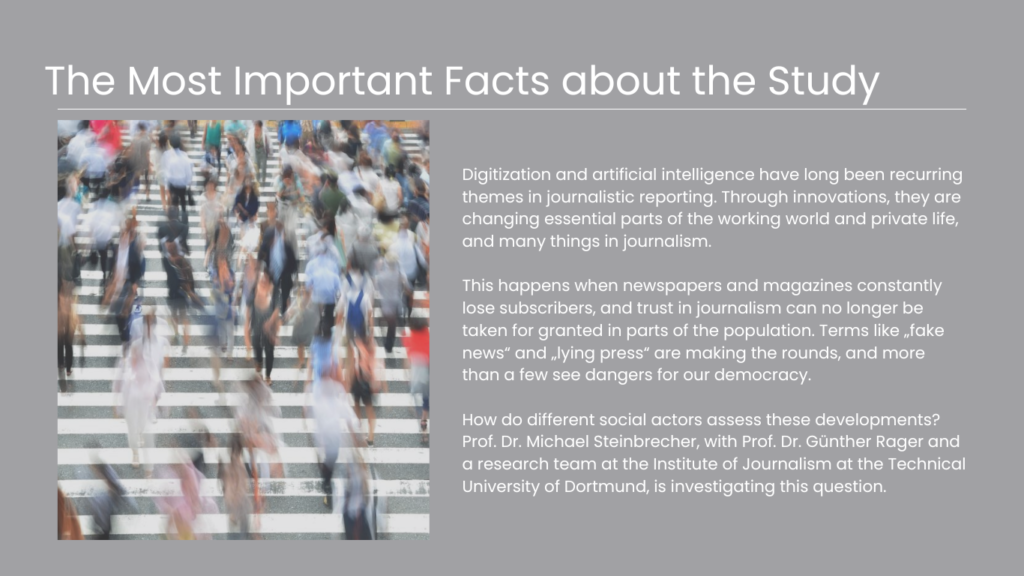 The Study
What expectations do different groups have of journalism? This question is at the heart of the "Journalism and Democracy" study. And what do the individual groups know about each other's expectations? In addition to journalists, recipients, politicians, business players, and technology pioneers will be surveyed. What tasks do they assign to journalism in these times of social and rapid digital change? What does journalism contribute to the functioning of democracy? And where does (self-) criticism of journalism come in?
Seismograph for Change
To be able to answer these crucial questions, this study is to be repeated regularly. In this way, developments and changes can be marked and analyzed. The answers of the different groups of respondents to the same questions allow differentiated insights into the relationship of socially relevant groups to journalism. Comparing the results enables a multi-perspective view of the development of the relationship between journalism and society.
The Approach
In the first step, we surveyed newcomers to journalism – both students at the Institute of Journalism at TU Dortmund and trainees at various media companies. The online survey of experienced journalists was a great success: 750 of them participated. Initial evaluations show that significant changes are emerging in relation to earlier survey results. We will continue to report on this on this homepage and in other media. In the second step, we conducted a large-scale survey of politicians. This will be followed by the public, business actors, and technological pioneers. An expansion to other socially relevant groups is planned.